Thermal insulation – Energy efficiency is important to us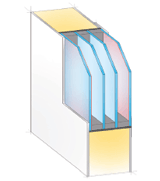 Already the standard version of each entrance door provides optimal thermal insulation. This is ensured by an internal, highly insulating heat insulation core and high-quality heat protection glass with a U-value of 1.1 W/m2 K. For special needs of energy efficiency we offer further optional features. Please ask your expert adviser for your optimal package of thermal insulation.
Thermal insulation solutions for your entrance door by comparison.